Last week's game against Iowa was a fun one. This week's game was not. But after a couple tough basketball losses, a 20-17 win was all Purdue fans were looking for. Amazingly, a win at home against IU most likely puts Purdue in a New Years Day bowl game -
perhaps against a team
who just beat the number 1 team in the country! Regardless of how you feel about Hope, I think we can all agree it would be pretty nice to wake up on January 1st to get ready for a bowl game against a BCS conference opponent.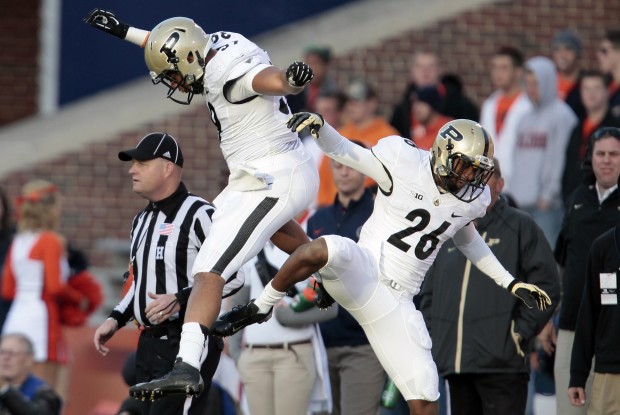 "Maybe if we jump up and spread our bodies out it'll look like there are more than 50 people here!"
The Return of Offensive Blah
The Boilers lost the turnover battle against Iowa 3-0, yet still pulled out the win on the road. So, one would think that WINNING the turnover battle 3-0 would result in a cakewalk for Purdue. The Illini fumbled the ball three times in the first half, yet Purdue gained a total of -11 yards off of those three turnovers. I'm sure I wasn't the only one who felt the Boilers were in trouble at this point.
Ball Security
I don't even want to think what would have happened had we turned the ball over. Losing that game might have been the low point in Danny Hope's career. Marve played a very efficient game (18-26 for 173 yards - even with a 63-yard TD pass) and special teams didn't make a single boneheaded mistake. It may not have been a pretty game, but the Boilers didn't do anything to lose it.
Play of the Game
Ralph Bolden's 63-yard run was one of the best runs I've seen all year and should have resulted in a touchdown. Unfortunately, Bolden suffered a pulled hamstring 15-yards into his run, yet he STILL scampered another 40-yards on a bum leg! Purdue ended up scoring a big touchdown on the drive a few plays later. Bolden is questionable for his last game at Ross-Ade this Saturday - let's hope he can play so we can celebrate his great career at Purdue.

Official Report
For the first time in awhile, I don't remember a problem with the officiating. Perhaps the refs fell asleep in the first half too...
Picks of the Week Update
Kirk nearly got the point differential exactly right as his 24-20 pick earns him $200, while my faith in a big Purdue win cost me $99. I'm now at -$48 while Kirk's at +$219.50. Unfortunately for Kirk, he can't use any of that money to improve his basketball standings as he currently stands at a statistically improbable 0-6 on the season. To make things interesting, a decision will need to be made for this week's game. Should I gamble now or hope Purdue makes a bowl game? Stay tuned to find out...