The 2K Sports Classic appeared to be a great opportunity to get some wins against middle-of-the-road teams on a neutral court that could go a long way in helping the RPI and a potential tourney bid.
Instead, it exposed Purdue's weaknesses and turned into the worst-case scenario.
If you consider the fact that the first two games of the season were also technically part of the event, the Boilers lost to 3 unranked teams with none of them being a true road game. What went wrong?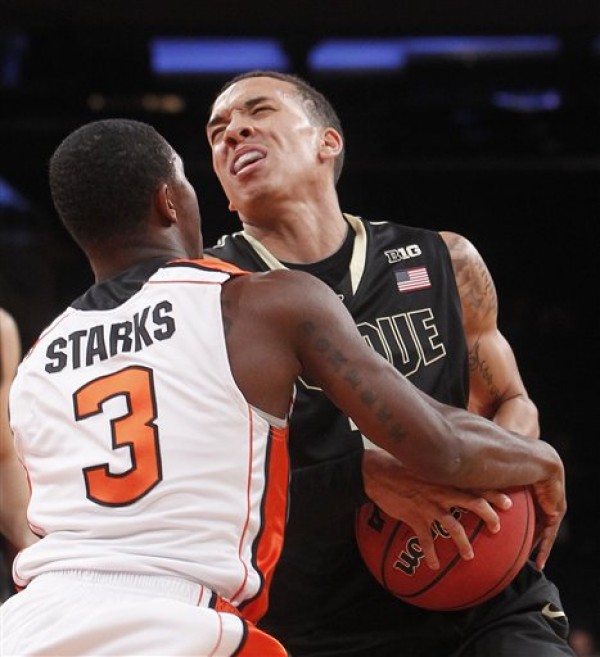 I don't want to know where Starks' other hand is.
Free Throw Shooting –
How can the Boilers be continuously this bad at the free throw line?
Even the supposed "good" shooters (Byrd, Hale, Anthony Johnson) struggle from the line.
This is not something that's going to change overnight either – you can practice all you want, but anybody who's played competitive basketball knows that after you've been hacked and been running around for several minutes, trying to compose yourself and shoot free throws is not the easiest thing in the world. Mentally, you need to be tough and be able to take yourself back into the gym where you shot thousands upon thousands of free throws.
The mental toughness of the leaders of the team this year is concerning.
Inexperience –
At the same time, this is such a young team and they're going to do stupid things.
Ronnie Johnson didn't get nearly the minutes he should have against the Beavers (only 18 minutes) because he "left his jersey at home".
(As an aside, he wore John Hart's old number [#32] – how many extra jerseys do you think the team takes with them on the road???)
Also, Donnie Hale committed an awful offensive foul late in the game that pretty much sealed the game.
In addition, Purdue is no longer an efficient offensive team. The past several years have seen the Boilers make up for their lack of rebounding by taking care of the ball.
Not this year.
In fact, I'd argue that if we committed our average number of turnovers (8) from last year in each 2K Sports Classic game, Purdue would be 4-0.
Rebounding –
I nearly wrote in
the preview
of this game that Purdue was starting to create a rebounding identity that we hadn't seen in the Matt Painter era.
I'm glad I didn't write that, because I wrote enough stupid things in my preview ***cough…ESPN2…cough***.
Purdue got outrebounded by 10, and it didn't even seem that close.
End of Game Management
– Purdue spent most of the game struggling on the offensive end.
However, AJ Hammons WENT OFF in the second half and single-handedly brought Purdue back from a 15-point deficit.
H
e even hit two free throws (!) to tie the game with just over two minutes left.
So, who would you go to in the last two minutes?
Hammons.
How many touches did he get in the final two minutes? ONE.
And it was outside the three point line.
He has 16 points in the second half and has only missed two shots all game, yet he doesn't get a single touch in a scoring opportunity.
I'm sure all Boilermaker fans were thrilled then when Anthony Johnson threw up an air ball (yes, I used the phrase"threw up" on purpose).
Despite the criticisms, this team isn't one to give up on. They're exciting AND frustrating, and they're going to knock off some good teams this year.
They're not an NCAA tourney team RIGHT NOW, but neither was the 2007 team when the Big Ten season started.
I really believe Ronnie Johnson has the potential of Kyrie Irving and AJ Hammons looked dominant at times in his 4th-ever collegiate game.
Remember, Jajuan Johnson averaged 5.4 points per game his freshman year – Hammons had 20 on Friday night!
Keep the faith Boilermaker fans.
The future is bright.