The Hoosiers are coming to town and we don't have to remind you how bad we want to beat these guys, no matter what the stakes are. However, the stakes in this one are huge. Indiana is looking to keep pace with Michigan for first place in the conference, while the Boilermakers are desperate for a signature win to impress the committee. Will Purdue pull it out and see another Tom Crean unclassy blow-by? Or will there actually be a conversation afterwards (meaning Indiana wins)? For the sake of all things right in the world, let's hope the patented blow-by rears its ugly head again.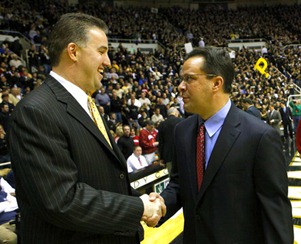 The only recorded Tom Crean handshake with Matt Painter.
Why Purdue Will Win
Purdue may be 4-3 in the conference, but they haven't scored more than 68 points in any conference game. In order to pull off the upset, the Boilermakers will have to put together an awesome defensive effort. This means locking down Victor Oladipo and Christian Watford, while keeping Cody Zeller off the boards for some cheap putbacks. Despite the prolific offense, Indiana does not have the weapons that Michigan had. Point guard Yogi Ferrell is a dangerous player, but remember how Trey Burke killed the Boilers when kicking the ball out for three? If Ronnie Johnson can guard Ferrell WITHOUT help, and Purdue can avoid a long drought on offense, the Paint Crew may be able to will this team to victory.
Why Indiana Will Win
Purdue hasn't scored more than 68 in a conference game? Well, Indiana has scored less than 67 once. If the Hoosiers can play their style of putting points on the board in bunches, there's no way the Boilers can keep up. While the Boilermakers have given up 56 or less points in regulation in 4 of the last 5 games, Purdue fans will begrudgingly admit that part of it has been a result of opponents missing a lot of open shots. Give Indiana open shots and they'll blow this game wide open.
One thing you absolutely need to know before the game
Purdue-Indiana is a huge rivalry, so obviously there's a lot of animosity between the two. Of course Purdue fans hate Tom Crean for his lack of class and shady dealings - it's a rivalry! However, is it really a rivalry thing or is Tom Crean just really a sleazeball? Would Purdue fans dislike Crean even if he wasn't their main rival?
In order to find out who the sleaziest jerk of a scumbag coach in the Big Ten is, we googled each coach's name with the words "jerk", "sleazy", and "scumbag" (for example, we searched
"Tom Crean" sleazy
) to see how many pages each search would come up with. We then ranked the coaches by each term and averaged their ranks to come up with the ultimate slimeball ranking. For fun, I guessed how the results would come out before performing the search...you'll see I was pretty close (click to enlarge)!
So, while Tom Crean is not the biggest slimeball, he IS the sleaziest coach in the Big Ten according to Google. Science!
A couple more things I noticed when compiling the rankings:
- Some random guy named Tim Miles appears to be a real jerk, which hurt Tim in the overall standings. I didn't see much name bias with any of the other coaches.
- Bo Ryan more than DOUBLED the next closest in the jerk column. That's got to be more than coincidence, right?
- Tom Izzo has some major scumbag issues.
- The lowest coach on the list that's consistently been in the top half of the standings is Matt Painter. Man it feels good to have a well-respected, classy, and outstanding coach!
Our Picks
- We like to think we're better than Vegas. So throughout the season, we'll be "betting" a whole dollar amount versus the spread between $1 and $32, but we can't repeat the same value twice. The spread for this game is Indiana by 8 points.
Erik's Bet:
$7
Erik's Pick:
Indiana 68 -
Purdue 65

Kirk's Bet:
$10
Kirk's Pick:
Indiana 72
-
Purdue 66
Standings
:
Erik +232 (17-5 Against The Spread)
Kirk -153 (8-14 Against The Spread)
Values already bet
Erik 2, 3, 5, 6, 9, 10, 11, 12, 13, 14, 15, 17, 21, 23, 24, 25, 26, 27, 28, 30, 31, 32
Kirk 11, 12, 13, 14, 15,16, 17, 18, 19, 20, 21, 22, 23, 24, 25, 26, 27, 28, 29, 30, 31, 32
BOILER UP!!!!