I watched this game in a bar and missed what was surely a very fair, non-biased announcing crew. I'm sure you'll all agree that the officiating was of the same quality. It may have been heartbreaking, but isn't it fun to have close games like this that actually matter?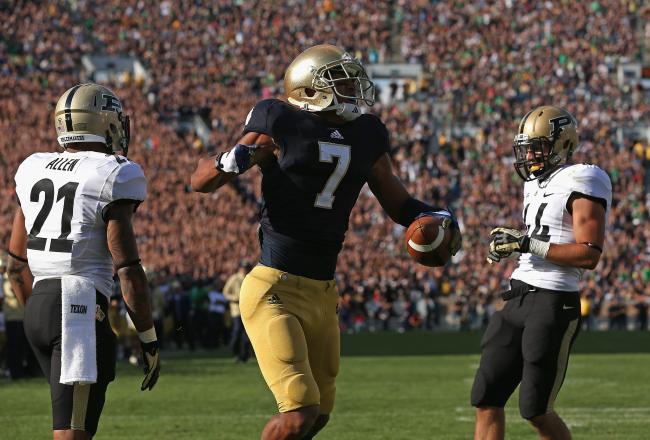 Overview:
Purdue lost to Notre Dame 20-17 in a game that really could have gone either way. Heading into the last possession of the game, stat lines were very similar, and overall it didn't feel like one team was dominating more than the other. Unfortunately Tommy Rees (yes, the same Tommy Rees who has a
suspended 30-day jail sentence
from an incident earlier this year) came in on the last possession and led Notre Dame to a game-winning field goal.
The Offense:
Caleb TerBush started the game and initial impressions were that he was playing well. TerBush led the Boilers to several first downs in the first two drives but just wasn't able to come up with the big 3rd down play when needed. The first drive went 13 plays but ultimately led to a punt. Robert Marve came in for the rest of the half and led an impressive 13 play drive that culminated in a big touchdown to tie the game at the end of the half. The big play on the drive was a bizarre 4th & 4 play in which Marve somehow found a very covered Crosby Wright for a first down. It appeared Marve was just trying to get Notre Dame to jump offsides - and he was actually successful - but the ball was never snapped. With everyone thinking Purdue would take the delay of game, Marve took the snap with less than a second on the play clock and executed the classic pick-up football "everyone just run around and try to get open" play.
The big question at the end of the first half was whether to start Marve or TerBush in the second half. While popular consensus was Marve, I actually thought going with TerBush was the right move. Both were equally effective in the first half, neither had made a mistake, and barring a nearly miraculous 4th down conversion, TerBush actually would have had much better numbers. However, the offense came out struggling in the second half and TerBush threw an awful interception on his second possession that led to a field goal. Down 17-7, it was time to make a switch. However, TerBush was granted another chance and proceeded to go three and out.
Marve was finally given the chance to lead the team again and immediately went on a scoring drive. This SHOULD have been a touchdown, yet Marve took a very costly delay of game that most likely cost the team 4 points. While it appeared Marve had the momentum, two 3 and outs followed before TerBush came back in to throw the game tying Touchdown pass.
Overall, I thought the offense looked solid and did a good job eliminating turnovers. The one interception was costly, but it really looked like the Boilers were much more focused on playing mistake-free ball than they were against Eastern Kentucky. This offense can strike at any time and won't be playing many defenses better than Notre Dame's this year. TerBush did throw a god-awful hail mary at the end of the game, so I definitely would suggest working on that.
The Defense:
The defense is going to keep us in a lot of games this year. For this first time since 2004, it feels like the identity of this team is now an outstanding defense. The line did an unbelievable job against the run while the secondary kept things manageable in front of them. 324 yards is a lot to give up through the air, but I counted one pass by Everett Golson that wasn't a catchable ball. I thought he was very impressive for a freshman, and really seemed to be able to find his tight end, Tyler Eifert.
The forced fumble and recovery by Josh Johnson was a thing of beauty, as Johnson actually grabbed Golson's arm to keep him from recovering the ball.
Overall, I'm VERY excited to see this defense progress throughout the season, although a weakness may have been exposed with Notre Dame's success in throwing to the tight end.
Special Teams:
In the biggest turnaround from last week's game, special teams played mistake-free. I can't think of one bad play they made. Meanwhile Sam McCartney made his first ever field goal attempt (in a pressure-filled situation too!) and Raheem Mostert had a couple of nice kick returns. The unit didn't do anything amazing throughout the game, but I'll take a mistake-free game like this every single week!
Coaching:
Best coaching decision:
As someone who gets very angry when timeouts are mismanaged, I was furious when Hope called a timeout on 4th and 10 with a little over 2 minutes left. 4th and 10 is tough to convert, especially when you're that close to the endzone. The Boilers still had 2 timeouts and could get the ball back even if they didn't convert. Instead, Hope called a time out and put all his eggs in one basket. Sure enough, he called a great play and TerBush fired to an open Antavian Edison for the game-tying score. It turned out to be a great time out and a great play call. My bad. Way to go Coach Hope!
Worst coaching decision:
The coaches are getting a lot of grief after this one and rightly so. Anytime a team loses with a questionable strategy (2 QB system), it will rile up the masses. I already mentioned that I didn't have a problem with TerBush starting the 2nd half, but I DID have a problem with him coming out for the third possession after the break. TerBush had made a very poor decision on the interception and Hope claimed he was in there for that very reason - to not make those mistakes. TerBush went on to go 3 and out on the next drive. Coach, it was time for a change, but it came one possession too late.
Worst Call by a Zebra:
This could be a whole post in and of itself, but what else do you expect when heading up to South Bend? Three plays stick out, but only one can be the worst call...
1) The touchdown/touchback replay review: Originally ruled down at the one, replays showed that Everett Golson's dive into the endzone in the first half should have either been a touchdown or a touchback. However, it was almost impossible to tell which one was correct. The rule in this situation? The call on the field stands. It would have been 4th down and Notre Dame would have most likely settled for a field goal. Instead, the refs somehow thought the ball hit the pylon while in Golson's hands which is something I couldn't see even if I went frame by frame on my DVR.
2) The offsides call: On Purdue's first scoring drive, a Notre Dame player was running off the field, thinking he was the 12th man. He really was the 11th, so there was no penalty for too many men on the field. Unbelievably, though, he was a yard and a half OVER the line of scrimmage when the ball was snapped, was on the field by several steps AND did it right in front of the referee! No flag came out which ended up putting Purdue in a dicey 3rd down later in the possession. Purdue ended up scoring anyway, but this was just awful. See for yourself (bottom of the screen):
3) The delay of game call: It's 3rd down on the game-winning drive, and Notre Dame still has the ball with zero seconds on the play clock. This is about to be the game's second most boneheaded delay of game. Except the refs didn't call it! Notre Dame would convert the third down and the rest is history. Again, see it for yourself:
I know you may all disagree, but the worst call was the offsides call. It had very little effect on the game, but it was definitely the easiest call of the three and the one that was most blatantly missed.
Most Important Play:
Josh Johnson's forced fumble and recovery was the most important play of the game for a multitude of reasons. It not only put Purdue in position to tie the game, but it also injured Golson just enough to convince Brian Kelly to put in Tommy Rees on Notre Dame's final possession.
Regardless of what he says.
The Biggest Missed Opportunity AND "My sister could have executed that play better" Award:
Third and Goal from the one yard line. Down 10 late in the third quarter. You have two chances to get one yard. So SNAP THE FREAKING BALL BEFORE THE PLAY CLOCK RUNS OUT! All Robert Marve had to do was snap the ball and hand it off. They most likely would've gotten a touchdown. My sister could've executed that really important missed opportunity better.
In Conclusion:
Purdue showed a lot of heart in this game, but you can't help but lament the chances they let get away. Notre Dame played very undisciplined and Purdue really had a chance to steal one in South Bend. The most important thing to take away, though, is that Purdue WILL be a contender for Indianapolis. Wisconsin got beat by a so-so Pac-12 team. Illinois got crushed by Arizona State. Indiana is Indiana. Could Purdue be the new favorite to go to Indy? Tough to take that from a loss, but unless you thought Purdue was going to the National Championship game, this loss doesn't hurt that bad. Let's take care of business over the next 3 weeks - then the real fun starts!
Stay tuned later this week for your favorite GoBoilers.net features including the always humorous Broadcast Recap and the always 100% correct Power Rankings!