Alright, we've heard all about how horrible that game was on Saturday. Being the eternal optimist, however, I'd really like to focus on the positives from the game...
1) Christian Watford played so well in the first half and has such an ugly beard that he's caught the attention of
Samuel Mullet and his Ohio Amish Beard Cutting cult
. Samuel's in jail for hate crimes right now (yes, apparently cutting a beard off an Amish person is a hate crime), but rumor has it that his new found love for tv has convinced him to organize a beard-cutting crew for Indiana's March 5th game against Ohio State. While we would never condone a crime here on GoBoilers.net, chopping off Watford's disgusting stringy beard would be a benefit to all mankind.
2) Dan Dakich was able to say this awesome line, even though Purdue was down by 30...
"The crowd is chanting 'Ball State's Better.' Now in football, Ball State IS better than Indiana as they've beaten them two straight times."
Dan and I don't always agree (Illinois is the third best team in the league???), but thanks for sticking up for us!
3) We've uncovered a scandal! Indiana Associate Head Coach, Steve McClain, was caught on camera grabbing DJ Byrd's ass late in the first half...
If this was an attempt to distract Byrd into a night in which he committed more combined turnovers and fouls (8) than points (6), it worked well. If you really want to dig further into the potential scandal, ask yourself where Tom Crean's hands are and see if you can figure out what they're doing while McClain grabs DJ's behind. I mean, isn't the
scientifically proven
sleaziest coach in the Big Ten ALWAYS clapping his hands??? This is definitely questionable behavior and should be looked into by the Big Ten.
For your enjoyment, here's a picture of Mr. McClain about ten years ago as the coach of Wyoming...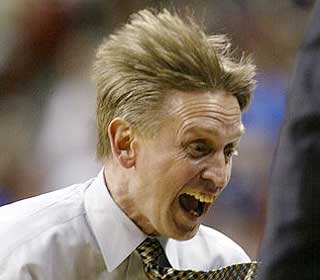 Seriously, this is IU's Associate Head Coach
Clearly, Bloomington is a disturbing place - I mean where else can such an ugly dude like John Mellencamp (who sometimes bears a
striking resemblance to Bo Ryan
) end up with someone like this...
Yuck
Honestly, I'm just glad the team got out of that hellish town in one piece.
4) We didn't have to witness another blow-by handshake.
5) Sandi Marcius and Jacob Lawson but some good hustle minutes in on Saturday. They were rewarded by starting the second half. Keep it up guys and the minutes will keep coming! Meanwhile, Travis Carroll got 5 minutes of mop-up time in a 30-point game? Hmm.
6) Neal Beshears got actual meaningful minutes, as he came in with over 12 minutes to go, down by less than 20. The Hoosiers went on a huge run to officially seal the game, so I can't say they were great minutes. Still, nice to see an Indiana walk-on native get rewarded by playing in the state's biggest rivalry.
Remember, it's usually tough to beat a team 3 times in a season, and right now we'd be matched up with the Hoosiers of the second round of the Big Ten Tourney (I'm reaching, but it's all I got!). The Boilers still have a chance to be spoilers this season as they get a week off to try and figure out how they can compete with the top half of the conference. Hope you as a fan can enjoy the week off as well - I think everyone needs it.
Boiler Up!