Basketball season officially starts on Friday, which means it's time for a preview of epic proportions...
from
other
sites
. Meanwhile, OUR "extravaganza" is for those of you who may not have realized the Boilers have already played two exhibition games and want to know what to expect in Matt Painter's ninth campaign (it's been NINE years already???)...
I Don't Have Time To Read Much - Give Me One Paragraph That Tells Me All I Need To Know
Give Me More, Give Me More!
C'mon, that was a really good summary - what else do you want? I've still got to give you a preview of tomorrow's game and it's getting late. Seriously, what else would you expect from us? Normally our posts are ridiculously long, so if it's an "extravaganza", it's gotta be different.
Alright, just give me the pictures and numbers of the new guys so I can figure out who's who when I watch on the crappy ESPN3 feed tomorrow night.
OK, I can do that. Although, who are you, Mr. Bold Font, to demand stuff from us? You're sort of a jerk.
#23 Jay Simpson
- Look for Jay to have a big role this year, especially if AJ Hammons gets into foul trouble.
#1 Sterling Carter
- The hard-working transfer from Seattle should provide some big help to Purdue's outside shooting woes.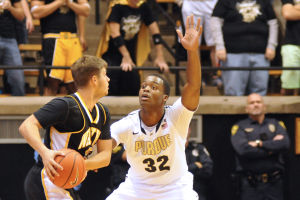 #32 Errick Peck -
The Cornell transfer is a big guy and has already impressed fans with a 16 point performance on 7 of 8 shooting in the second exhibition game, and added 6 rebounds and 5 steals for good measure.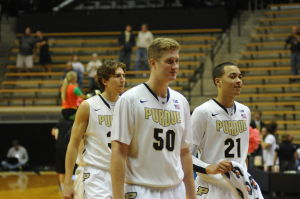 #21 Kendall Stephens -
The 6'6" guard should be able to stretch defenses from outside the arc while being able to outreach just about anybody he's defending. Don't get him confused with Travis Carroll in that picture...
#5 Basil Smotherman
- While the #5 makes me think of Keaton Grant, this guy's dunks will immediately make you forget about making any further comparisons. The best athlete of the bunch - it would be nice if one of our "great athletes" finally panned out (see Kelsey Barlow or Jacob Lawson).
#12 Bryson Scott -
Already being compared to Chris Kramer on the defensive end, Scott also has the offensive skills to be a huge contributor this year. Expect him to be in whenever Ronnie Johnson is out, and for Coach Painter to try some rotations where they're both out on the court.
Preview: Purdue vs. Northern Kentucky - Friday, November 8th - 7:00 pm - ESPN3
The Northern Kentucky Norse (yes, the Norse) come to West Lafayette on Friday for both teams' season openers. The Norse come from the Atlantic Sun conference, which they joined only a year ago when they entered Division I. Northern Kentucky did surprisingly well at 9-9 in a conference that included a tough Mercer team and a Florida Gulf Coast team that made the amazing run during last year's NCAA tournament. Unfortunately for Northern Kentucky, only one starter returns, they're picked to finish 9th in their conference, and their nickname is still the Norse.
Picks (no line on this one since N. Kentucky is still new to division 1 - we're going to guess it's about Purdue -16):
Erik:
Purdue
75 - Northern Kentucky 54
Kirk:
Purdue 70
- Norther Kentucky 52
3 things you should know:
1) Todd Johnson is from Elkhart, Indiana and plans to have a
decent cheering section there
. Luckily for Purdue, the Norse are playing at Kentucky on Sunday, so perhaps Northern Kentucky might be looking ahead to that one. Yep, I'm calling it right now - it's a classic trap game for Northern Kentucky.
2) AJ Hammons will serve the final game of his suspension for "conduct". It shouldn't matter.
3) Boiler Up!