Well, it's nearly two days later and I'm still sick to my stomach. It's not that
I didn't see it coming
, I just figured Nebraska would blow it late since they've had trouble holding leads all year. For anyone who watched Iowa's collapse last night, or saw the same Nebraska team in the second half against OSU - that's what I expected.
And really, the Cornhuskers DID fall apart down the stretch. With 12:30 to go in the game, Nebraska held on to an 8 point lead and had 45 points. Over the next 8 minutes and 45 seconds, the Cornhuskers scored a total of 3 points and STILL HELD THE LEAD! Yes, with 3:45 to go, they still led 48-47. Nebraska scored 12 points total in the last 12 1/2 minutes (a 38-point pace over an entire game) and snuck out of the United Center with an ugly 57-55 win.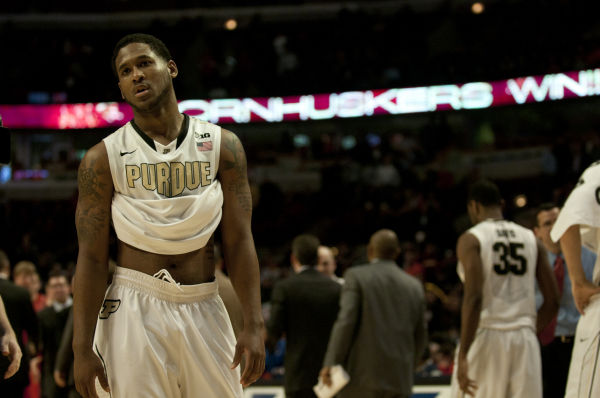 I'm pretty sure every player and fan felt like this after the game
Give Nebraska credit though as they capitalized on the one thing they do well: taking care of the ball. You may recall the Cornhuskers only had 2 turnovers in the first meeting between these 2 teams which is why it was a close game despite Purdue winning the FG% battle 45% to 33%. Sure enough in the rematch, Nebraska shot 45% and didn't give the Boilers any easy baskets on turnovers (6 TO's on Thursday). Add that to the fact that Brandon Ubel was missing in the original matchup, and the Boilers HAD to play better than they did in Lincoln to pull this one off.
They didn't. Anthony Johnson reverted to the
AJ prior to the Minnesota game
, DJ Byrd missed his first 6 three pointers, and Terone fought foul trouble and couldn't get his floater to drop. But the most aggravating and disappointing part of the game was free throws. Purdue went 3 for 10 in the second half from the line and went 2 for 7 in the last 6 minutes. Not the formula you need to pull off a comeback.
Yet the Boilers STILL had chances to send this game into overtime. First off, with 34 seconds to go, Ray Gallegos missed a free throw to keep the lead at 2. The Boilers did a great job of boxing out...and then didn't grab the ball! Three Boilers watched the ball hit the ground and let Gold and Black killer Shavon Shields come from outside the arc to nab a killer offensive rebound. The Cornhuskers then missed another free throw, giving Purdue yet ANOTHER chance. With 15 seconds left and down 3, AJ Hammons got the ball in the post and made one the best passes I've seen him make - to a WIDE OPEN Ronnie Johnson. Ronnie had surprisingly been shooting jump shots fairly well and put up a good looking 3-pointer (on tv, it looked like it was going in). It clanged off the rim, but Byrd was there with the put back to keep Purdue alive.
Another foul sent the Cornhuskers back to the line. Nebraska missed only 5 free throws all game, yet 4 of them came within the last minute. The 4th gave the Boilers one last possession to either tie or win it. Terone ended up with 2 separate floaters sandwiched around an offensive rebound, but couldn't get either of them to fall. They were tough shots for sure, but after his unbelievable Michigan game, fans have come to expect him to hit those shots. Nebraska had really tightened up and overtime would have heavily favored Purdue. Instead, the Cornhuskers got their first ever Big Ten Tourney win and got to finally face someone other than Purdue in the tournament.
It wouldn't be a recap of mine without mentioning the refs. Ted Valentine AND Ed Hightower both refereed this one and amazingly I didn't feel like the officiating was that bad. Interestingly enough there were only 14 fouls called on each team, yet 2 players fouled out and 3 others had 4 fouls apiece. 5 players had 79% of the foul calls...very strange.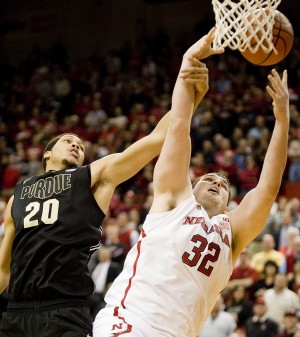 AJ Hammons had no fouls in the game. That makes it difficult to explain this picture.
Give Nebraska coach Tim Miles a lot of credit...he doesn't have a great team. However, his defensive schemes dared Purdue to take the 3 and pretty much looked to shut down the floaters that the Boilermakers have become known for. A frustrating loss for sure, but Purdue needed to hit outside shots. They didn't, Shavon Shields hit everything, and that was the ball game.
What's next for this team? Is anything next? Matt Painter
said prior to the game
that the Boilers would accept a bid to the College Basketball Invitational if invited. Of course, that was expecting the fans to still be geared up after a fantastic end to the season and an assumed tough loss to Ohio State. I mentioned in the comments of
Kirk's preview
that this was the reason the Nebraska game was the most important game of the season. A win, and I bet the Boilers get 9,500 fans into Mackey for a small tournament game. With the loss, however, I'd be surprised to see more than 5,000 people there. Remember, these games aren't included in season tickets, so fans have to want to go. A sour-tasting loss to Nebraska is not the way to get Boilermaker fans excited about paying more money to see this team and Purdue (and the CBI) may not find it financially beneficial to play these games. We'll find out more on Sunday night or Monday morning.
Meanwhile, I'm hoping for a CBI bid. I'd love to see these guys get as much playing time as possible, even if they're sometimes painful to watch. Most CBI games will be televised on a random HD channel called
AXS TV
. I've never heard of this channel, but amazingly I get it. And if you have HD, you probably get it too, as you can find it on satellite, AT&T, Verizon, Comcast, and at least
30 different tv providers
around the country. I found mine on AT&T Uverse right by TBS and TNT - I'm guessing they get less than a penny per subscriber, but at least that means us out-of-towners might get watch some more games.
We'll have much more if this truly is the last game, but in the meantime, it's my duty and obligation to point out that I have completely dominated this season against the spread and against Kirk - potentially finishing above 70% for the season! Just don't ask me to pick the winners, as
my Big Ten Tourney predictions
were just awful.
Standings
:
Erik +363 (24-10 Against The Spread)
Kirk -104 (14-20 Against The Spread)